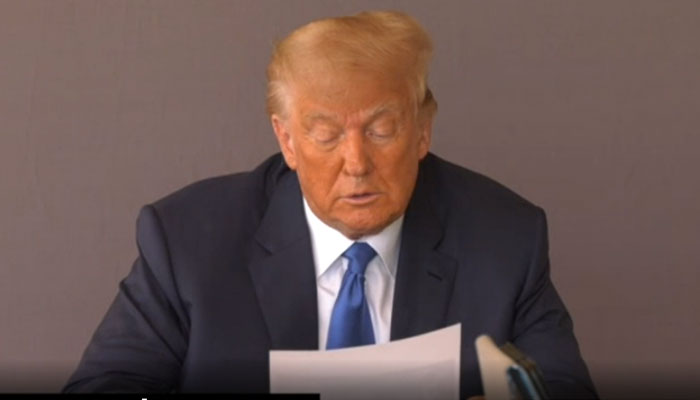 The former president of the United States, Donald Trump's 48-minute video that shows him providing evidence for his civil rape trial has been released by a New York court. 
During the video, Trump misidentifies his accuser, E Jean Carroll, for his ex-wife Marla Maples in a photo. The former president also repeats his denial of Ms Carroll's allegations by stating that she is "not my type." 
In the deposition, Trump can be seen shifting uncomfortably when he is shown the leaked Access Hollywood tape that was published by the Washington Post during the 2016 presidential campaign. In the tape, Trump can be heard saying "you can do anything" to women "when you're a star".
Trump's lawyers called no witnesses before resting their case, and the former president has not been present in New York for the trial. However, on a judge's orders, Trump formally provided sworn evidence on camera last October over Ms Carroll's claim that he raped her inside a New York City department store in the mid-1990s. 
Video of the deposition was shown to jurors on Thursday and publicly released for the first time on Friday after a petition by media organizations.
Ms Carroll, a writer and long-time advice columnist, is suing the former president for battery over the original incident, as well as for defamation over his adamant denials of the incident. During the deposition, Trump repeated a comment he has made since Ms Carroll first came forward in 2019, saying: "I say it with as much respect as I can, but she is not my type." 
"Physically, she's not my type, and now that I've gotten indirectly to hear things about her, she wouldn't be my type in any way, shape, or form," he adds.
Lawyers for Trump have said he will not testify in person. Still, the former president told reporters he might cut short a trip to Ireland and the UK to "confront" Ms Carroll in court. In light of the comments, the judge granted Trump until Sunday afternoon to decide if he will take the stand. Lawyers for both sides rested their case on Thursday.
The video footage could have a significant impact in deciding the case. Renato Mariotti, a former federal prosecutor, now a columnist for Politico, pointed to the impact the footage could have in deciding the case. In the clip, Trump called Carroll's claim "the most ridiculous, disgusting story" and said it was "just made up." 
An exchange followed about when Trump became aware of a picture showing him with his first wife, Ivana Trump, Carroll, and Carroll's then-husband, John Johnson, at a public event in New York. Shown the picture, Trump said: "I don't even know who the woman – let's see, I don't know who, it's Marla." 
Carroll claims that Trump raped her in a department store in New York in the mid-1990s. The deposition showed that Trump was unable to recall the date of his marriage to Ms Maples, his second wife and mother to his daughter Tiffany. During their combative exchanges, he calls Ms Kaplan a "political operative" and a "disgrace".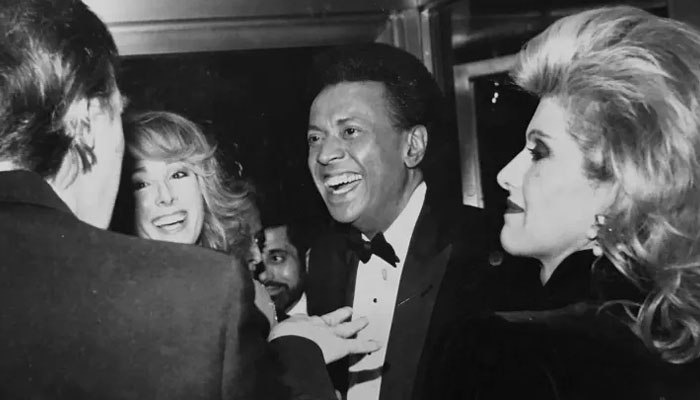 Trump was handed the photo. Looking at the it, he said: "I don't even know who the woman – let's see, I don't know who, it's Marla." 
His questioner asked: "You say Marla's in this photo?"
Trump said: "That's Marla, yeah. That's my wife."
Asked "which woman are you pointing to", Trump said: "Here."
His questioner said: "The person you've just pointed to is E Jean Carroll."
"Oh I see," Trump said, adding: "Is that Carroll? Because it's very blurry".
Another footage revealed Trump discussing the Access Hollywood hot-mic recording that came up in 2016, which posed a brief threat to his election campaign.
Trump is heard saying: "I just start kissing them, it's like a magnet, just kiss, I don't even wait and when you're a star they just let you do it. You can do anything. Grab 'em by the pussy. You can do anything."
In his deposition, he said: "Well historically, that's true with stars."
He was asked: "It's true you can grab them by the pussy?"
He said: "Well, if you look over the last million years, I guess that's been largely true. Not always, but largely true. Unfortunately or fortunately."
"You consider yourself a star?"
"I think you can say that, yeah."