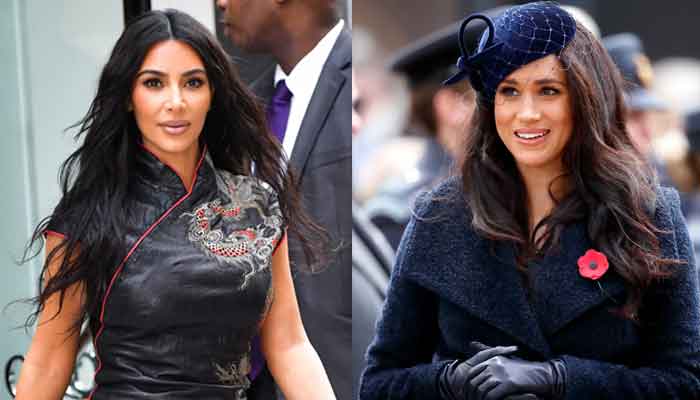 Prince Harry and his wife Meghan Markle, who attended the game between the Los Angeles Lakers and the Memphis Grizzlies at the Crypto.com Arena on Monday, were completely shunned by Kim Kardashian and Kris Jenner who were also there to support Tristan Thompson's team.
Dressed in pink jacket and matching shorts, the Duchess was sitting with her husband Harry few rows back from the Kardashian.
The Duke and Duchess of Sussex, who surprisingly attended the game, attracted the attention of Kim and her momager for a moment when they appeared on the big screen while getting little cozy.
But, Kim and Kris did not even try to say "hi" to the Sussexes who tried to steal the spotlight with their gesture.
However, some of Kim's fans reacted as saying that the Sussexes joined the game to get the spotlight as they knew Kardashians would be there to support their favourite team.
The SKIMS co-founder and her son were seen enjoying the game. Kim's seven-year-old son Saint was dressed in a Los Angeles Lakers jersey, a replica of Tristan Thompson's No. 9 over a black sweatshirt with spiderweb sleeves.
Were Not only Meghan and Harry at the match, but Adam Sandler, Kris Jenner Kim Kardashian and her son Saint, who was wearing a jersey hounoring Khloé Kardashian's ex Tristan Thompson.
Kanye and Kim's child seemed excited at points throughout the game, which they attended with Jenner and her boyfriend, Corey Gamble, cheering on the father of Khloé Kardashian's two children.
They all apparently shunned Meghan and Harry who allegedly tried to capture the crowd's attention with their romantic gesture at the game. the Duke and Duchess of Sussex's outing marked their first outing together since revealing their plans about King Charles III's coronation.