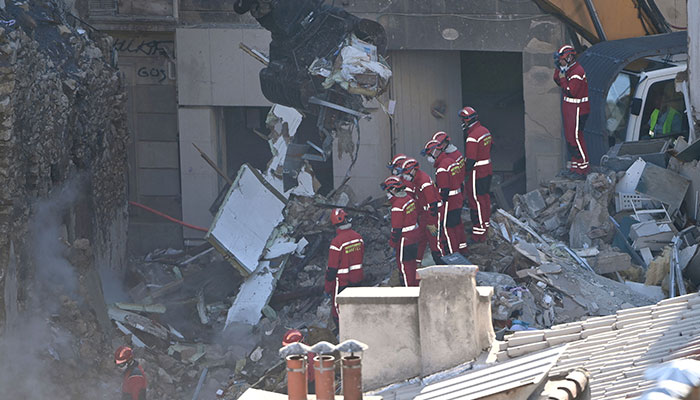 Rescue teams at the site of the collapsed building in Marseille announced the recovery of three more bodies on Monday, elevating the death toll to six. Two individuals remain missing.  
The explosion took place at an apartment building where the residents had reported a strong gas smell. Rescue workers continue to comb through the rubble with the assistance of drones, heat sensors, and sniffer dogs, but the intense fire below the wreckage has hampered the search for survivors and bodies.
Housing Minister Olivier Klein had initially announced the discovery of four bodies earlier that day, but the number rose to five and then six victims within a few hours. Identifying the deceased remains a top priority, as rescue teams and investigators continue to work around the clock. 
Marseille's deputy mayor, Yannick Ohanessian, expressed hope of finding survivors, but the dangerous conditions, coupled with the ferocity of the fire, have made it an uphill task.
Firefighter Adrien Schaller described the challenges of the rescue operation, explaining that the blaze's heart was deep underneath and hard to reach with hoses. Using an excavator, rescue workers cleared most of the rubble, stopping as soon as they noticed an air pocket, which signaled the presence of a possible survivor. This race against the clock continued through the day, with the authorities evacuating almost 200 residents from the area.
The tragedy has left many in the neighborhood in fear, as two neighboring buildings were severely damaged, and one collapsed during the day without injuring any rescuers. Arnaud Dupleix, the president of a parents' association at the nearby Tivoli elementary school, stated that many families were afraid. The city prosecutors have opened a manslaughter investigation, with authorities ruling out any structural issues as a possible cause of the disaster.
The 2018 collapse of two dilapidated buildings in Marseille's Noailles district, which killed eight people, highlighted the city's housing standards. Aid groups had then raised concerns about 40,000 people living in substandard structures. However, Christophe Mirmand, prefect of the Bouches-du-Rhone region, confirmed that there had been no danger notice for the collapsed building, and it was not located in a neighborhood identified as having substandard housing.